TOS 1:350 LED Fan Blade and Control Boards
50th 1:350 TOS Star Trek Enterprise LED Fan Blade and Control Boards
Add life to your TOS 1:350 Enterprise NCC-1701 with our Second Generation System
This is our 50th Anniversary rendition of the original effect utilizing LED's to simulate the rotating motors is now available to anyone that would rather not listen to the slight motor sounds from the spinning bossards. The two round boards that go in the bossard are fully functional microprocessor based boards having all the SMD LED's soldered to the front of the boards and the controlling electronics on the back. Also a control board for the Navigation/Strobe/Impulse Engine is included.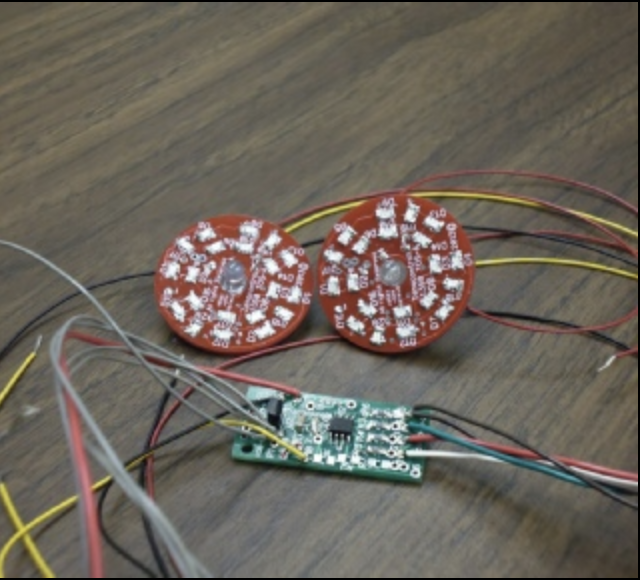 1:350 TOS Star Trek Enterprise LED Fan Blade and Control Boards
All the connections to these boards are done by the supplied pre-connected wires coming out of the boards, color coded for easy wirin
To make assembly even easier we supply all the Navigation, Strobe, Impulse and Shuttle bay LED's pre-wired, ready to be put in place and connected to the control board termination wires.
The supplied instructions also have a video link showing the process of how to install this kit into your Polar Lights model. Check out our LED light effects from the two modes of operation, which should satisfy both camps of how the fan effect should look.
As always TenaControls uses commercial grade components in all our controls for reliability and longevity. Which is why we can offer a 5 Year Warranty for your peace of mind.
Also included:
One (1) fully assembled Clock Wise Led Fan Effect Board
One (1) fully assembled Counter Clock Wise Led Fan Effect Board
One (1) fully assembled Nav/Strobe/Impulse Engine Board
Two (2) 3mm Shuttle Bay White LED's
One (1) 3mm Navigation Green LED
One (1) 3mm Navigation Red LED
Two (2) 3mm Navigation White LED's
Two (2) 3mm Impulse Engine Red LED's
Two (2) 3mm Strobe White LED's
Shrink tubing for some connections
Wiring Instructions
Best warranty in the business – 5 Year Warranty
Made in the USA
Important: No interior or window lighting supplied with this kit. This board will also work on 12 volt DC supply.
If you purchase the remote control system option in the pull down checkout payment button below you will receive that option at a reduced cost. Remote control has one on/off toggle function to turn the ship on/off and three momentary functions to use as you see fit. One obvious use is to speed up and slow down the LED rotational effect. Normally this remote is priced at $55.00, Model#: RMTD-OMMM.
Item# TOSKIT-350A (model kit not included)
50th 1:350 TOS Star Trek Enterprise LED Fan Blade and Control Boards
USPS shipping any where in the United States. International shipping available, charge will show in the shopping cart before check out
International Buyers – Please Note: Import duties, taxes, and charges are not included in the item price or shipping cost. These charges are the buyer's responsibility. TenaControls,LLC will not be responsible for any lost shipment in the destination Country.
With Remote
$163.50
+ Shipping & Handling
Without Remote
$136.25
+ Shipping & Handling
50th 1:350 TOS Star Trek Enterprise LED Fan Blade and Control Boards