Nav / Strobe / Photon / Navigational Deflector Dish / Impulse Crystal / Impulse Engines / Chiller Grills / Internal Lighting /Phaser Lighting Kit
Star Trek Enterprise 1701 Board with Nav / Strobe / Photon / navigational deflector dish / impulse crystal /impulse engines / chiller grills / internal lighting / Phaser
The PHSTSNSD-RFT-350 is  now available  to anyone that is serious about building Navs, Strobes, Navigational Deflector Dish, Impulse Crystal, Impulse Engines, Chiller Grills, Internal window Lighting and Weapons Effects into their own Enterprise.
Add life to your Star Trek Enterprise 1701 and 1701-A Refit as well as other space ship models that could benefit from this effect.  
All the connections to this board is done to the 8 wire mating connectors, no soldering (to the control board).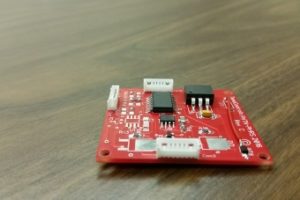 This is a complete weapons effect board with a few of extra goodies! The board is designed to provide  the Navigation Lighting, the Strobe Lighting, the Navigational Deflector Dish Lighting,  the Side Deflector Dish Lighting, the Impulse Crystal Lighting, the Impulse Engines Lighting, the Chiller Grills Lighting, The Internal Window Lighting, the Photon Torpedo and Phaser. This tiny board has two sound boards within it. Due to this feature, we can activate the Photons and Phaser and both will function and be heard simultaneously through their individual speaker just like in the show – No waiting for one sound to stop so you can activate another one! Small enough to fit just about anywhere you'll feel comfortable placing it inside the ship.
As always, TenaControls uses commercial grade components in all our controls for reliability and longevity. That is why we can offer a 5 Year Warranty for your peace of mind.
One (1) Fully assembled board

Three (3) momentary switch

One (1) 1.8mm White LED

Eleven (11) 3mm White LED's

Two (2) 3mm Green LED's

Two (2) 5mm Amber/Blue bicolor LED's

Five (5) feet of White LED Strip tape for Internal lighting
Four (4) 0805 Yellow prewired SMD's

Four (4) 3mm Red LED's

Wiring and shrink tubing for the LED's

Thirteen (13) resistors

Wiring Instructions

Three (3) JST 8-Pin Connectors

Two (2) speakers

Best warranty in the business – 

5 Year Warranty

Made in the USA
Important: This board will also work on 9 or 12 volt DC supply.
Item# PHSTSNSD-RFT-350  (model kit not included)
USPS shipping any where in the United States. International shipping available, charge will show in the shopping cart before check out
International Buyers – Please Note: Import duties, taxes, and charges are not included in the item price or shipping cost. These charges are the buyer's responsibility. TenaControls,LLC will not be responsible for any lost shipment in the destination Country.
$

200.00
+ Shipping & Handling