Combo-NCL
Star Trek Enterprise 1701 Combo Board Nav / Strobe / Impulse Crystal/ Deflector / Nacelle / Landing Bay /Nacelle Grill Lights
The Combo-NCL is now available to light up the Crystal and Nacelle Grill lights as well as the usual Combo functions as stated below.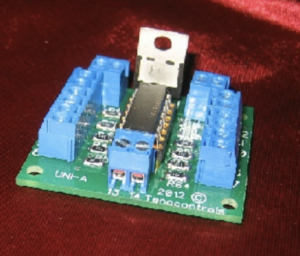 TenaControls Brings Models to Life. Add life to your Star Trek Enterprise 1701-A as well as other space ship models.  All the connections to this boards are made to the Screw Down Terminal Blocks.  This is why we say this is the complete board. The board is designed to provide all the Navigation Lighting, all the Strobe Lighting, the Navigational Deflector Dish, Crystal ramp up from Amber to Blue, Impulse Engine will ramp up form off to Red when when Impulse Crystal is Amber mode. When in the Blue ramp up mode the Nacelles will also ramp up and stay on until the Blue ramp down feature is activated, which will cause the Nacelles to also ramp off. The Landing Bay sequential landing lights. The Combo-NCL is powerful, yet small enough to fit  just about anywhere you feel comfortable placing it inside the ship.
The Photon Torpedo is not included in the Combo-NCL board, however, the Photon Torpedo board is a quality product we offer – Please see above for more information.
As always, TenaControls uses commercial grade components in all our controls for reliability and longevity. That is why we can offer a 5 Year Warranty for your peace of mind.
One (1) fully assembled board (1 5/8 inch x 1 1/2 inch)

One (1) momentary switch

One (1) 9 volt battery clip

Seventeen (17) 3mm White LED's

Two (2) 3mm Green LED's

Two (2) 3mm Red LED's

Two (2) 5mm Red LED's

Two (2) 5mm Bi-color LED's

Wiring and shrink tubing for the LED's

Thirteen (13) resistors

Wiring Instructions

Best warranty in the business – 

5 Year Warranty

Made in the USA
Important: No interior or window lighting supplied with this kit.  This board will also work on 12 volt DC supply.
Item# Combo-NCL  (model kit not included)
USPS shipping any where in the United States. International shipping available, charge will show in the shopping cart before check out
International Buyers – Please Note: Import duties, taxes, and charges are not included in the item price or shipping cost. These charges are the buyer's responsibility. 

TenaControls,LLC will not be responsible for any lost shipment in the destination Country.
$

113.31
+ Shipping & Handling